Lake Mead
Boulder Beach Campground
Boulder Beach camping overview
Budget Vacation Ideas
Callville Bay Marina
Camping, RV and Tent
DRIVING DIRECTIONS
Fire Restrictions
Fishing Bait, licenses, supplies
Grand Canyon Access
Grand Canyon Pictures
Grand Canyon Tours
Gregg Basin Pictures
Hoover Dam Info
Hoover Dam Bypass is OPEN!
Hotels in Las Vegas
Lake Mead Marina
Lake Mead National Park Service link
Lakeshore Trailer Village & RV park
Las Vegas Boat Harbor, Hemenway
Marina Services Chart
Marinas & Launch ramps locations
MAPS OF LAKE MEAD
Pictures of other launch ramps
Phone Numbers of Importance
PWC BAN in National Parks
Scuba Dive, Hike, Bike, Skydive
Services, Guides, & Instructors
Sporting Goods Stores, L. Mead
Things to see and do
Train Tunnels
Lake Mohave
Cottonwood Cove Rentals
Fishing Tips
Gasoline Regulations on the river
Willow Beach Harbor
Willow Beach Campground NEW
Weather, Katherine Current Condition
Lake Powell
Aerial Pictures of Page and Powell
Antelope Point Marina
Businesses in Page, AZ
Corkscrew Slot Canyon Tour
General Information
Grand Canyon Tours
Hotels near Wahweap/Antelope
Lone Rock
Lower Antelope Slot Canyon Hike
Houseboat Share for Sale $15K
Map Index
Monument Valley, UT
Private Secluded Places to play
Rainbow Bridge National Monument
Services, Guides, Instruction
Tours at Lake Powell
Water Elevation History (pdf)
Whacko ideas about Lake Powell
General Info & Training
Personal Watercraft tips
Houseboat Anchoring
Marine Radio Protocol
69' X 18' Stardust Cruiser

Prices Reduced $10K for 2017, act fast!

2017 schedule dates below. Dates slightly vary each year. First week always starts the first week after Memorial Day. Weeks available for sale are:

Week #1 $15,000 (June2 - June 9)
Week #12 $15,000 (Aug 18 - Aug 25)
Week #14 $15,000 (Sept 1 - Sept 8)
Week #15 $15,000 (Sept 8 - Sept 15)
Week #16 $15,000 (Sept 15 - Sept 22)

For more information contact the Houseboat LLC president

The Lake Boat Associates has 4 shares for sale on a Luxury 2008 69' X 18' Stardust Cruiser. LBA is made up of a group of experienced houseboat owners, most of them with over 15yrs experience on Lake Powell. As you can imagine, investing $25K in a houseboat share is an important decision and knowing you are investing with a good group of owners is very important. When you are counting on the boat to be in tip top shape for your scheduled week of vacation you want to feel confident the owner that used the boat before you doesn't break something. This kind of confidence can only be accomplished with experience, and the LBA owner group has a lot of the real world experience you're looking for as co-owners. Some owners have been part of the LBA organization over 15yrs on Lake Powell. A good portion of the owners are firemen which by nature are safety oriented and responsible folks.

The boat is moored at Wahweap Marina, slip B24, one of the closest locations you can get, easy walking distance from the parking lot. Given the experience the owner group has from past houseboating this boat was specially equipped with all the bells and whistles, including satellite TV, flat panel HDTV, slide, swim deck and a top deck wetbar. The floorplan is below. Download the pdf file for more clarity.

Annual LBA meetings are held in Pasadena, CA usually in Nov-Dec timeframe. The official LBA vacation season starts the first weekend in June, which is the season starter for week #1. Loading and boarding occurs on Fridays, late afternoon. There are 16 share weeks+ which make the last vacation week occur in late Sept. Dues are typically around $3000-$3300/yr.

This is not your normal houseboat organization that's run by a company. This one is truly owned and run by the group. They take great pride in keeping the boat in tip top shape. Many are fireman, a great group of people.

There are 6 additional bonus weeks made available on a first come first serve basis to LBA owners in late May and the month of October. Those bonus weeks usually have good availability. There is an additional usage fee charged to owners that use bonus weeks. Annual dues are ~$3000/yr to pay for slips fees, insurance, maintenance, and repairs. Additional costs to expect are the "turn-fees" to pump, clean, check-on and check-off, plus refueling.

For a vacation crew of 10 to 12 people this boat is a great value to create a lifetime of memories at Lake Powell for years to come. It will be a collection of vacation experiences your family will talk about all their whole life! If you're true boater or have PWC, an annual Lake Powell vacation is about as good as vacations get.

Logistics:

Friday Check-on, 2pm loading of gear occurs after the check-on process is complete. If you order food from Safeway or Bashas, have it there after 2PM, no sooner.

Friday Check-off 8am. All your gear (including trash) needs to be off the boat by 8am. Give Energy Marine 30 minutes or more heads up as to where you are going to meet them. This can be at either the guest dock (launch ramp) or the slip. The check off process will occur at the slip with the captain in attendance. The captain is required to spend at least 30 minutes with the management company to go through the check-off process, item by item.

Rules:

Only owners can captain the boat, this is not a timeshare. An owner must be onboard when the boat is in operation.

Floorplan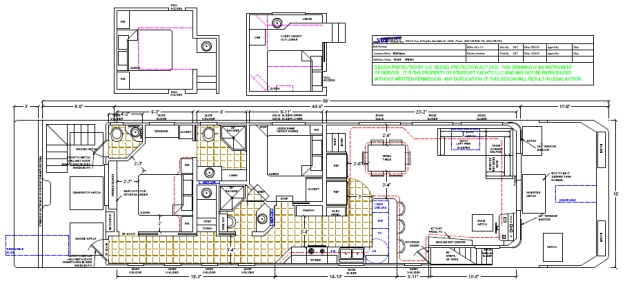 Top Deck