Hanky Panky Anyone?
Where else can you find a better place than Lake Powell to get away for a little privacy with your mate and be a little naughty. Maybe you want a place to sunbathe in the nude, or maybe a place to just relax. Or maybe a place for a little romance in the bare (very likely). But what about all those other crewmembers you need to ditch ??
This page is dedicated to the disclosure of secluded little places that abound at Lake Powell, perfect for a little hanky panky. These places are too small to camp at and at least a half mile from the nearest camping area. We're talking tiny beaches just big enough to beach a small boat or PWC, but up on shore you'll find another sandy area, comfortable, but hidden around a corner, or over a ledge.
Yes, these sites are secluded enough so you can relax without worry of being surprised. Each are situated in a way that you shouldn't be surprised by hikers or boaters. You can easily hear what's going on for 150' around, yet you're only 75-150' from your boat at shore. The beaches are small enough that nobody would dare beach their boat right next to your craft, and the secluded area up on shore is high enough to see what's going on below without being exposed.
These 3 places shown on the map below were discovered with the water level at 3682. So if the water is higher the beach may be smaller, or gone. Vice versa, if the water is lower the beach could be a little larger to put your boat on shore.
Make sure you're prepared with a blanket or towel to lay on the sand. Plan to take some wine, cheese, or fruit to nibble on..... Yes, let your imagination wander with that. Maybe you'll want to be a film producer, like Tommy Lee at Lake Mead.
A few precautions should be taken when planning and setting up your area.
1. Don't wait just before sunset, then find it too dark to get back to camp when done. Give yourself plenty of time.
2. Locate the area and check it out prior to bringing your playmate with you. Getting lost isn't a good use of time with other things on your mind.
3. Take a marine radio with you if you have one, just in case.
4. When setting up, inspect around all the bushes, rocks, and gullies nearby to make sure there are no animals, rodents, or varmints in the immediate area. I've never had a problem, but a little inspection is worth the time.
3 LOCATIONS:
These spots in Face Canyon are indicated below with LAT/LON in magenta numbers and a BLACK + sign. When you arrive at the beach coordinates you'll have to walk up on shore 50 to 125 ft to find the private sandy area. You can't miss them.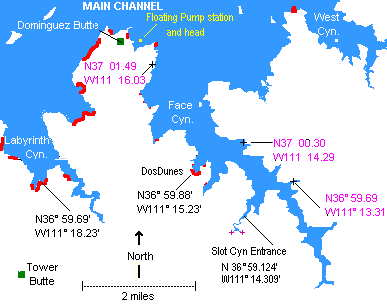 PLEASE CONTRIBUTE your findings and locations for similar secluded areas. Over time maybe we can compile a long list of quaint little spots.