Click for
Lake Powell
PICTURE GALLERY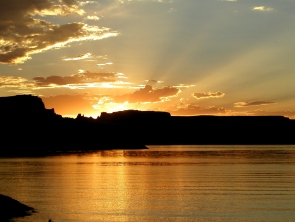 Lake Powell was created in 1963 with the completion of the Glen Canyon Dam project, taking 3yrs., 3mos., 3wks., and 3 days to complete. The project was a non stop engineering and construction effort, pouring concrete 24hrs a day, 7 days a week. As a result, Lake Powell has over 1900 miles of shoreline with a capacity of over 23 million acre feet of water (over 7 trillion gallons).
If you visit Page or the Wahweap Marina, make sure you take Glen Canyon dam tour at the dam visitors center, you won't be disappointed. It takes you down into the dam where at the bottom you'll see massive generators at the river level where the water comes out of the dam, generating millions of watts of power.
Millions of people from all over the world visit Lake Powell every year. That's because it is truly the most beautiful lakes in the world! Anyone who has been to Lake Powell will tell you it's a place that everyone should visit at least once in their life. The problem is.... once you visit you just keep coming back.
There are many ways to enjoy Lake Powell. For the shorter visits we suggest taking one of the Lake Powell tour boats to Rainbow Bridge. Other boats visit some of the beautiful canyons that make up the mystic of Lake Powell, and there's even a sunset dinner cruise for the romantics of the world. The most popular way to see the lake is by houseboat, so popular you have make reservations in advance to rent houseboats out of Wahweap Marina. Wahweap is near Page Arizona, and is the most popular due to location from major cities, not mention it's proximity to the more interesting canyons, plentiful beaches, and best marina support on the lake. Many people fly into Las Vegas, then drive 275 miles to Wahweap marina. Antelope Marina is also near Page, about the same distance away in the opposite direction. Antelope is a smaller marina with less amenities, but what they have is much newer having just opened in 2004. Eventually when completed it will be a nice marina with hotel, gambling, campground, and a usable public launch ramp (it has been closed with the low water condition). The town of Page is only about 5 miles from Wahweap and Antelope marinas. Page sits up on a hill and overlooks the dam from atop a majestic desert plateau. For that prefer to fly in, Page has a commercial airport with flights to and from Phoenix and Denver daily.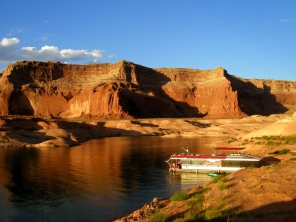 Warning.... Lake Powell is ADDICTIVE !!
Here's your typical 10 yr. scenario with many Lake Powell visitors
1. Your first trip is typically a result of a friend who invites your family along, showing you pictures of his previous trip, telling you how wonderful it is.
2. First trip with foreign visitors is arriving by bus as part of a southwest tour package, taking the one day boat tour ride to Rainbow Bridge or Navajo Canyon.
3. Your second trip usually consists of a full week. It takes a lot of advanced planning which MUST include a ski boat or PWC. You rent a houseboat with two other "compatible" families for a party atmosphere. An option is to stay at a local hotel either at Wahweap, or 6 miles away in Page. In that case we suggest you leave you're boat in a slip each night to minimize the logistics each morning (make sure to reserve slip rental space far in advance).
4. Third trip (sometimes the second trip) you realized early on that a houseboat is really needed to enjoy more of the lake and spend less time with logistics of returning to the marina at night fall. You reserve your houseboat in advance to get the best selection. You have an exciting and memorable visit.
5. Around the 4th houseboat trip you realize this is going to be an annual habit and nothing can keep you from visiting for the next 5 or 10 years. So, investing in a multi-ownership houseboat starts looking attractive. You realize paying $5000-$10,000/wk for a rental every year is a lot of money. Someone mentions to you that multiple ownership boats start around $1500/yr dues after a buy-in at $15K-$30K per week share equity. It's typical your equity usually depreciates about $500/yr, so the true annual cost is $2000-2500/yr, not to mention having a nicer boat each year. The search begins, and you buy a share in a nice houseboat.
6. After a few trips in your own houseboat, it becomes apparent you need a couple of personal watercraft to explore "slot canyons" since the canyons are too narrow to explore with the houseboat, or ski boat. After showing a few vacation video tapes you quickly become the envy of the neighbors, family, and friends, not to mention the friends you didn't know you had.... all hoping to be invited along on your houseboat.
7. By the 10th year you have seen most of Lake Powell's interesting canyons, artifacts, history trail, and beautiful beaches. You have become an avid Lake Powell lover, marveling at what nature has built, and what America has built (Glen Canyon Dam) to enjoy natures best artwork on earth, Lake Powell.
CLICK HERE to learn more about multi-owner houseboats