Lake Mead
Boulder Beach Campground
Boulder Beach camping overview
Budget Vacation Ideas
Callville Bay Marina
Camping, RV and Tent
DRIVING DIRECTIONS
Fire Restrictions
Fishing Bait, licenses, supplies
Grand Canyon Access
Grand Canyon Pictures
Grand Canyon Tours
Gregg Basin Pictures
Hoover Dam Info
Hoover Dam Bypass is OPEN!
Hotels in Las Vegas
Lake Mead Marina
Lake Mead National Park Service link
Lakeshore Trailer Village & RV park
Las Vegas Boat Harbor, Hemenway
Marina Services Chart
Marinas & Launch ramps locations
MAPS OF LAKE MEAD
Pictures of other launch ramps
Phone Numbers of Importance
PWC BAN in National Parks
Scuba Dive, Hike, Bike, Skydive
Services, Guides, & Instructors
Sporting Goods Stores, L. Mead
Things to see and do
Train Tunnels
Lake Mohave
Cottonwood Cove Rentals
Fishing Tips
Gasoline Regulations on the river
Willow Beach Harbor
Willow Beach Campground NEW
Weather, Katherine Current Condition
Lake Powell
Aerial Pictures of Page and Powell
Antelope Point Marina
Businesses in Page, AZ
Corkscrew Slot Canyon Tour
General Information
Grand Canyon Tours
Hotels near Wahweap/Antelope
Lone Rock
Lower Antelope Slot Canyon Hike
Houseboat Share for Sale $15K
Map Index
Monument Valley, UT
Private Secluded Places to play
Rainbow Bridge National Monument
Services, Guides, Instruction
Tours at Lake Powell
Water Elevation History (pdf)
Whacko ideas about Lake Powell
General Info & Training
Personal Watercraft tips
Houseboat Anchoring
Marine Radio Protocol
Yeah! The Bridge is OPEN !

Traffic began flowing on Tuesday night, October 19, 2010. The Hoover Dam Bypass bridge is operational for travel. No more long inspection lines, no more slow twisty roads, trucks are welcomed, and it's FAST! Nine years in the making, stalled with accidents and red tape, the bridge will bring a whole new dimension to visiting Lake Mead. Just like the Hoover Dam, good things are worth waiting for. The bridge is officially named Mike O'Callaghan - Pat Tillman Memorial Bridge. It is expected to have 21,000 vehicles pass over per day on average, 3000 of which will be trucks, formerly banned from crossing Hoover Dam since 9-11.

Conceived in the late 90's, the construction contract was awarded July 2001. After much engineering, construction officially started Jan 2005. Originally slated for completion in 2008, this was delayed due a tower accident Sept 2006. High winds knocked down two construction towers used to support building the arch.

The completed bridge will have a huge effect on visitors wanting to see things on both sides of the state line.

1. Arizonans can visit Boulder Basin and Las Vegas much quicker and easier.

2. Californians can visit Temple Bar Marina easier, potentially staying in Boulder City each night, 50mi away (1hr drive).

3. Willow Beach Marina on the Colorado River is easier to access for Boulder Basin visitors from California and Nevada.

4. Las Vegas visitors can visit the Grand Canyon much faster.

Oct 15, 2010

Check out the old the new road for comparison.

Click pictures for closeups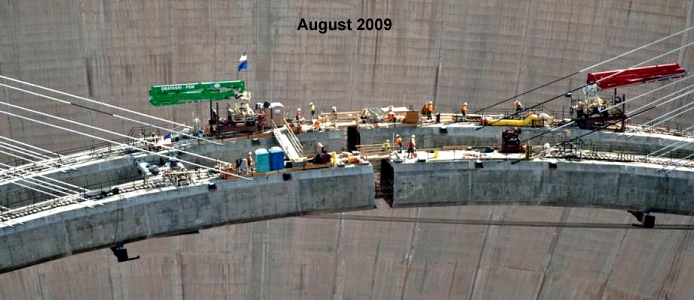 If you really want to see some cool pictures of this bridge, down this power point slide show.