Below are some pictures to give you an idea of what the marinas look like along with information that could help you make your travel plans.
As of Spring 2000, you must pay an entrance fee to get into the Lake Mead National Park. After you enter the national park all marina launch ramps have NO LAUNCH FEES and parking is free. All marina launch ramps are paved. Most offer paved parking, some have overflow dirt parking.
Lake Mead Marina (702) 293-3484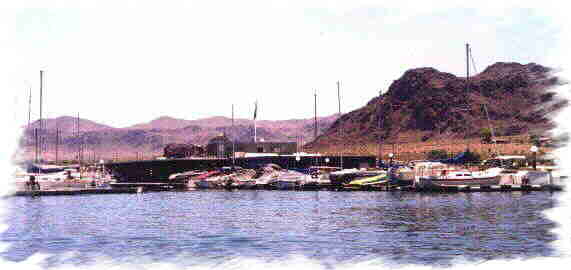 Lake Mead Marina is located just 1 mile north of Boulder Beach. As you can see from the picture showing all the sailboat masts, this marina is a popular sail boat location due to the frequent winds in the large open area of Boulder Basin. Lake Mead Marina is also the only marina on Lake Mead that has a sailboat hoist to lift larger sailboats off trailers (see ramp picture below).
Lake Mead Marina ramp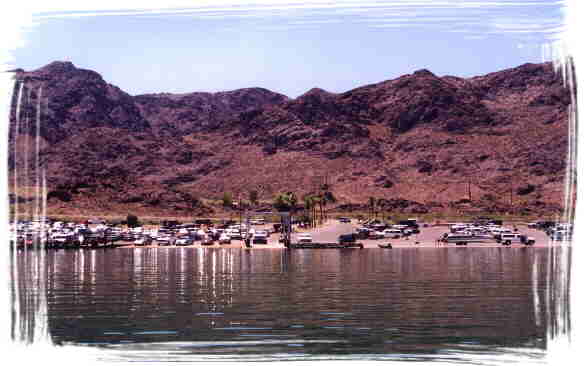 Lake Mead Marina has a quaint little floating restaurant with OK food, considering the location. But sometimes during prime eating time on weekends and holidays the service can be slow. So if you wish to eat there on a summer weekend I would advise to schedule your meals in "non prime" eating times. Lake Mead Marina also provides a good marina store for supplies, gas, and SeaDoo rentals.
Although Lake Mead Marina is the only marina on the lake to rent 3-man SeaDoos, they don't allow 3 people to ride their PWC. The rental personnel claim it's a National Park Service regulation, but the NPS denies it. Overton marina allows 3 people to ride their Yamaha Wave Venture 3-man PWC. The problem with a 2 person limitation is it doesn't allow you to ski, kneeboard, or pull inner tubes behind the craft. 3 people are required to legally do this..... driver, spotter, and skier. So remember, the NPS says they will not cite you because there's no violation. Lake Mead Marina will have to catch you in the act from the dock themselves. Don't forget to take your own life jacket for that 3rd person.
Las Vegas Boat Harbor 702-293-1191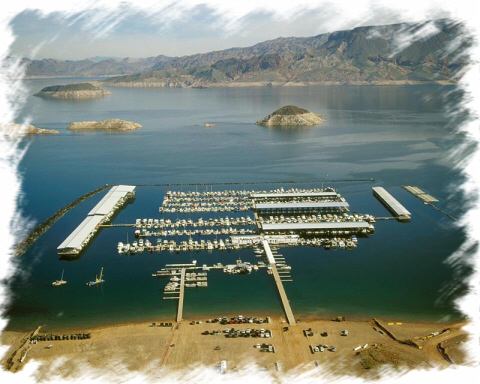 The Original Las Vegas Bay Marina is closed due to low water levels. Formerly located 15 minutes from Henderson this marina HAS RELOCATED next to the Hemenway Launch ramp about 8 miles south on highway 166. The marina is now called Las Vegas Marina Harbor and they are just 10 minutes from Boulder City. This marina has no on shore gas, but does have fuel available on the water. There is no restaurant or motel/lodge at this marina.

Callville Bay Marina (702) 565-8958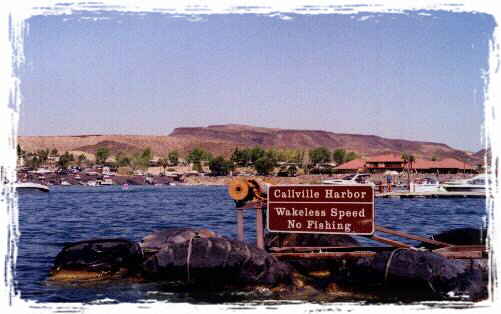 Callville Bay Marina is the nicest marina on the lake. They have a marina restaurant, and store, plus they rent houseboats, fishing boats, and ski boats through Forever Resorts. Callville has one of the larger launch ramps with lots of parking. But since it's so popular it can be hard to find a parking space on weekends and holidays. Callville is conveniently located near the "Narrows" for quick "total lake" access, yet somewhat close of a drive from Henderson.
Callville has a few full hook-up campsites for RV's, but none are waterfront. Call ahead asap to reserve, they are usually booked solid in the summer due to high demand.
Take Hwy 146 east from Henderson about 7 miles to Hwy 147 (North Shore Drive) and turn left. Go about 10.7 miles to the Callville Bay Marina turnoff and turn right. The marina is about 3 miles down the access road.
Temple Bar Marina (928) 767-3211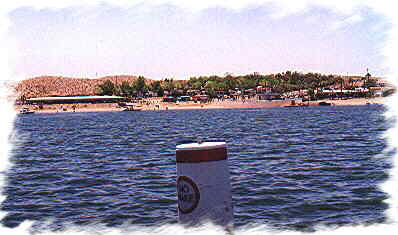 Temple Bar Marina is very secluded on Lake Mead. From Vegas and So. California it's another 75 minute drive versus Boulder Basin . But from Arizona it's "the place to go" for skiing and fishing. Although somewhat old, the marina provides a clean lodge, cafe, store on shore, and lake gas pumps. There's also a "trailer village" with a few spaces for RV's. There are NO beachfront full hook-up campsites.
Echo Bay Marina (702) 394-4000

Echo Bay Marina is one of my favorites. Although a bit farther to drive to, it gets you up in the less populated Overton Arm. On weekends and holidays this is very noticeable. They have a nice restaurant with marginal quality food (last time I ate there, June '98). They also have a marina store and lake gas pumps. This is one of the few marinas that has a lodge to stay on the water. Although somewhat old, the rooms are clean and adequate for the average family. Make sure to relax on the second floor deck at sunset, it's an awesome sight with a margarita in hand.
Echo Bay is about 41 miles from Henderson. Follow directions to Callville Bay Marina turnoff, then continue on North Shore Drive another 23 miles (about 34 miles from Hwy 146) to the Echo Bay Marina Turnoff, then turn right.
Overton Marina (702) 394-4040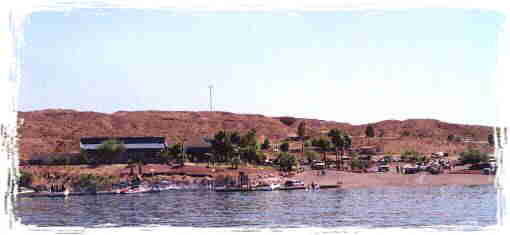 Overton Marina is the newest marina on Lake Mead. The area is very nice, typically much less crowded which makes it my favorite Lake Mead location.
Coming from California it's about an hour farther to drive than Boulder Basin. The best access is through Valley of Fire ($5 entrance each direction). Go about 35 miles north of Vegas on I15 to highway 169 at exit 75 (identified by the Indian Fireworks/Smokeshop business), then go east 26 miles through Valley of Fire. After you get through Valley of Fire 169 will T into Northshore Drive. Turn right at the T, then about a 1 mile south on Northshore Drive turn left to Overton Marina.
Coming from Utah.... Overton Marina is the closest marina. Take I15 to the Overton/Logandale turnoff, exit 93, just before Glendale. Go south through Logandale and Overton. Overton Marina is about 15 miles south of the town of Overton.
This marina has no lodge or restaurant, but offers lake and land gas pumps, a store on shore, nice swim beach, and a clean environment. There is a nice campground with hookups. They have some nice water front campsites with hookup (THE ONLY CAMPGROUND IN THE WHOLE NATIONAL PARK WHERE YOU CAN FIND BEACHFRONT CAMPSITES WITH HOOKUP !). But watch out, the shore has lots of dangerously sharp rocks. Be careful with your kids, feet, knees, and boat hull.
Tips
1. If it's your first time at Overton Marina campground, when you check in make sure you ask how to get to the campground. They need a few more direction signs.
2. Each campsite only provides the "little 20" and "big 50" amp electrical connectors, so don't forget to bring your conversion cable (it's the only RV park I've been to without 30 amp plugs).
3. If you have a big RV ( 32' and longer) you may get annoyed while launching a boat when negotiating the tight quarters through the maze of narrow parking lot lanes. Just take your time, be careful.
4. If you like collecting interesting rocks for your garden, hike about 100 yards east of the campground near the waterline. You'll find thousands, but don't tell anyone.
Overton Marina covered slips